Introducing our 2022 Walks for Cancer Ambassadors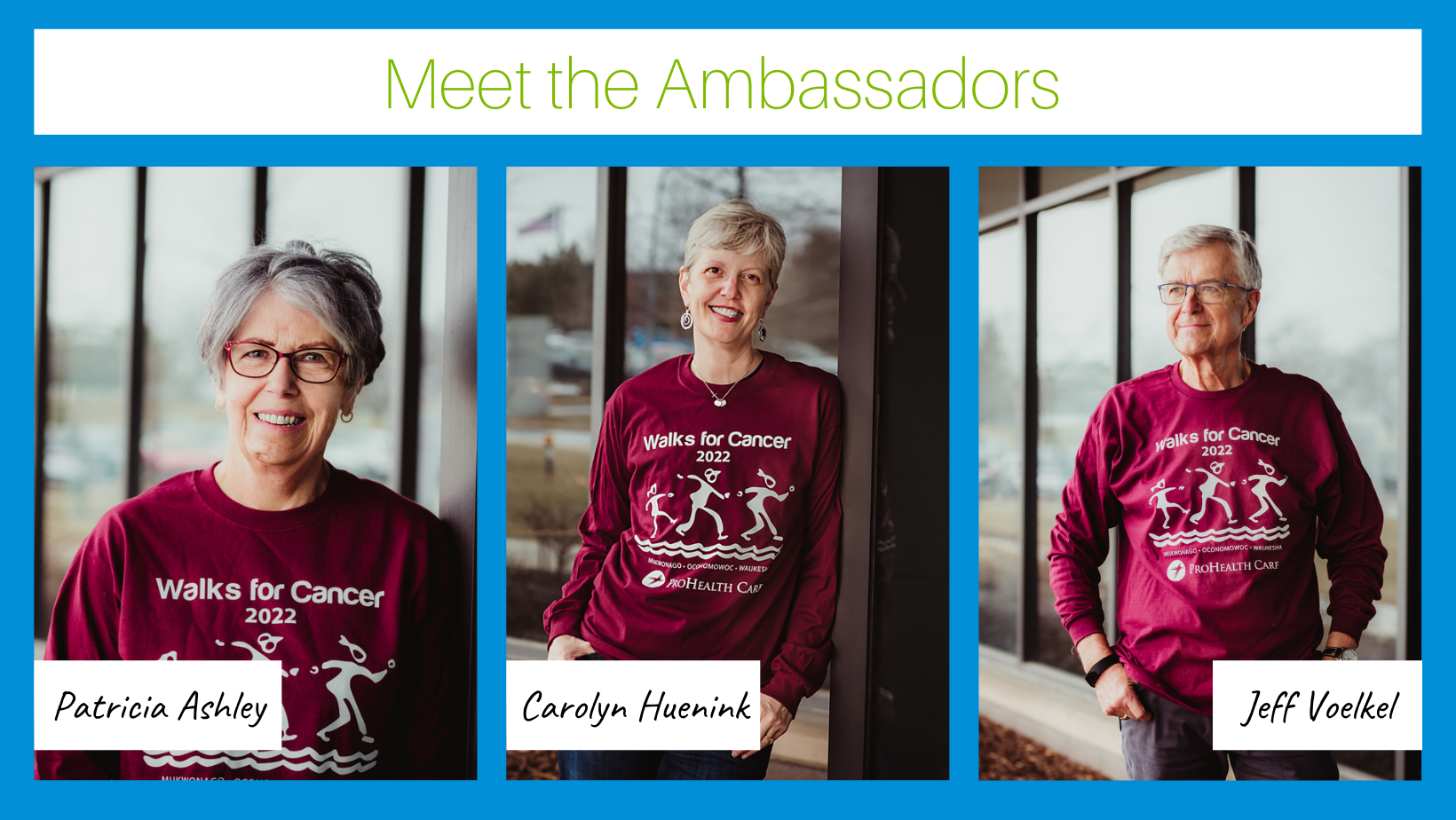 Patricia Ashley
My name is Patricia Ashley and I'm a cancer survivor.
My life changed quickly in late January 2021 when I learned the biopsy taken a few days earlier was malignant. The two weeks following were filled with appointments to prepare me for the ordered radiation and chemotherapy, all at the UW Cancer Center at ProHealth Care located just minutes from my Pewaukee home.
The excellent treatment I received on this journey, from every professional I encountered at the Clinic, has been followed up with ongoing support made possible by donations to the ProHealth Care Walks for Cancer. Please consider supporting the Walks for Cancer so this restorative care continues.
Carolyn Huenink
I'm Carolyn Huenink from Beaver Dam.
I was diagnosed with triple negative breast cancer in August of 2018. I'm married to my soulmate and am the mother of two daughters. My cancer journey included 13 months of treatment – three surgeries, 16 rounds of infusion chemotherapy, and four months of oral chemotherapy. I needed (and am forever grateful for) the support and expertise of my ProHealth Care cancer team, as well as the care and love of my family, friends, church-family, colleagues, and even strangers.
When you support the ProHealth Care Foundation through the Walks for Cancer, you may not know or ever cross paths with the beneficiary of your support. However, know that your gift is truly cherished by and used to support people going through one of the darkest times of their lives.
Jeff Voelkel
My name is Jeff Voelkel, and I have lived in Mukwonago for 31 years.
I was diagnosed with throat cancer in March 2021. It first presented as a cyst, about the size of a golf ball on my neck, just beneath my jaw. I had surgery in mid-May 2021 to remove the cyst, which was determined to be squamous cell carcinoma. I eventually had a tonsillectomy in July, followed by 33 radiation treatments between August and September. Since then my tests have remained clear. I have relied on my wife Jean, and sons Ben and Andy, along with very support friends and extended family to support me on this journey.
My experience with the people at ProHeath Care has been wonderful. I am grateful for the many support services that have made this journey easier for me, and I want to have those services continue for future cancer patients. Having access to counseling, physical therapy, nurse navigators and more is such a valuable resource, especially when your world is turned upside down with a cancer diagnosis.

Learn more about the 2022 Ambassadors on our new Walks for Cancer podcast.