Frequently Asked Questions

Why are the Walks for Cancer so important?
Each day cancer patients throughout our community need treatments and support. The money raised each year at our Walks for Cancer is critical to support the programs and services we provide each day like research, patient and family support services, education and state-of-the-art technology and equipment.
What does "Choose Your Path" mean? Will we be together at the parks?
Many Walks for Cancer participants are cancer patients, survivors or caregivers who may be at higher risk for illness. For their protection and with an abundance of caution, we will not gather at the parks this year. Instead, you decide the details for your walk. Pick your course, select what day and time you want to walk, and ask a few people to join you. Know that across the county other participants will be doing the same. Each of our walk routes is approximately 2 miles in length, so feel free to use that as your guide.
The walking is real, it's the community that is virtual!
You can hear messages of hope and encouragement from our ambassadors online, we will share links as they become available. We encourage you to share your own stories and photos with us as you can, please email them to
WalksforCancer@phci.org
or tag us on
Facebook
(@ProHealthCareFoundation).
Should I still register for the Walks for Cancer?
Absolutely! Your support matters now more than ever. One of the greatest aspects of our Walks is how we can see three communities unite for one cause. With this year's events being virtual, we can still make a difference in the lives of our patients and our community. You can register online or mail in a paper registration.
Will I still receive a t-shirt? How will I get my shirt?
Yes, all participants registered for this year's Walks for Cancer will receive a 2022 ProHealth Care Walks for Cancer t-shirt.
This year's shirts will be mailed to you at the address we have on file. Team t-shirts will not be mailed together to the team captain, but rather to each member of the team.
What color are this year's shirts? Are they true to size?
The 2022 Walks for Cancer shirts are maroon!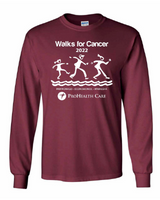 The long-sleeve t-shirts are a "straight-cut style", which offers a looser fit, so please factor that in when considering sizing. The shirts are made out of 100% preshrunk cotton.
Will custom t-shirts still be available for my team?
Custom team t-shirts will not be available this year due to changes related to the COVID-19 pandemic. We encourage you to pursue other local t-shirt vendors if you would like a custom team t-shirt.
We will be including our ProHealth Care Walks for Cancer "I Walk For" stickers that can be personalized by you with your t-shirt mailing.
I'm a survivor, can I still get my medal?
We do still have medals available for our survivors. You can indicate you are a survivor when registering, and a medal will be mailed with your t-shirt. If you did not receive it, or missed that step when registering, please email us at WalksforCancer@phci.org and we will make arrangements to get one to you.